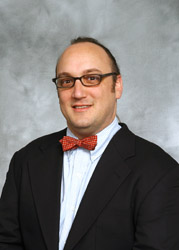 Douglas Shevlin, M.D.
Joined PACI in January 2001
Board Certified by the American Board of Pathology in Anatomic and Clinical Pathology

Subspecialty certification in Hematopathology
Subspecialty certification
Specialty areas of Expertise:
General Surgical Pathology
Flow Cytometry
Lymphoma Classification
Douglas W. Shevlin, MD was born in East Saint Louis, Illinois and was raised in the Saint Louis Metro East area. He received his Bachelor's degree in Biology from Benedictine College in Atchison, Kansas, and his Doctor of Medicine degree from the University of Kansas in Kansas City. After serving a residency at Ball Memorial Hospital in Muncie, Indiana, where he developed his interest in Hematopathology, he completed a Surgical Pathology Fellowship at Barnes Jewish Hospital in Saint Louis.
Dr. Shevlin joined Pathology Associates of Central Illinois in January 2001 after five years of practice in Indiana and elsewhere in Illinois. After joining PACI, Dr. Shevlin served as Vice Chairman and Chairman of the Department of Laboratory Medicine and Pathology at Memorial Medical Center for several years before assuming his current role as full-time surgical pathologist and part-time hematopathologist. He is also the Medical Director of the laboratory at Physicians Group Associates in Springfield.
Dr. Shevlin currently holds an appointment as Clinical Associate Professor in the Department of Pathology at Southern Illinois University School of Medicine. He has also served on the Executive Committee of the Medical Staff of Memorial Medical Center, the Board of the Central Illinois Community Blood Center, and is active in a number of national pathology professional organizations, including his service in the House of Delegates of the College of American Pathologists.
Dr. Shevlin lives in Springfield with his lovely wife, who is a librarian at a local elementary school; they have three children.